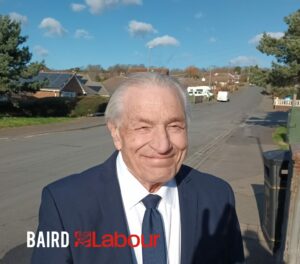 I have lived in Baird Ward since moving here with my wife and children from the Staffordshire Moorlands in 1985. I am a qualified engineer and I have a Dual Honours degree. I have spent most of my working life in the aerospace and car manufacturing industries.
Living in Baird for the last thirty-seven years, and being the elected representative for the Ward since 2010, has provided me with a comprehensive knowledge of the issues that matter most to its residents.
I listen to residents' concerns and work tirelessly on a multitude of issues to help to improve their lives. I work closely with residents, Resident Associations, Police and Housing Associations, amongst others, to try to improve the environment in Baird and make it a safe and pleasant place for everyone to live and work. 
I am passionate about retaining Baird's green and open spaces and wildlife habitats and protecting them from housing developments including on the Firs, Flagship school playing fields and the Pilot Field, to name a few.
In addition to my work in Baird, I represent Hastings as a member of East Sussex County Council Health Overview and Scrutiny Committee. I was instrumental in saving the Walk-In Centre from closure and I am currently fighting to prevent Cardiology services being taken away from the Conquest Hospital.
It has been a privilege and an honour to represent the residents of Baird ward. If you elect me again on 5th May I will continue to repay your trust in me with hard work, commitment and integrity.
CONTACT MIKE:
Skip back to main navigation