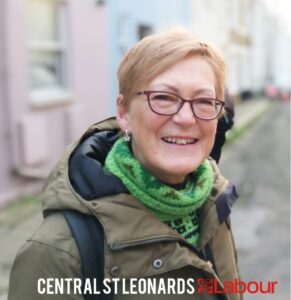 I've been a Labour councillor for four years now, and it's certainly been a job unlike any other. During that time I've served on a good number of committees, Scrutiny, Environment, Licensing and Planning, as well as being Chair of the Combe Valley Countryside Park board of directors.
More recently I've also taken on the roles of Deputy Mayor and Older Person's Champion. I have a special interest in promoting Age Friendly Hastings and Universal Basic Income, as some of you may have seen from recent articles in the press. 
I love Hastings, and particularly Central St Leonards, the ward I represent, for its diversity, creativity, resilience and independence.  Being a councillor has been a fantastic way for me to get involved in the life of the town, to learn its history, to appreciate its originality and also to learn about its social and economic problems.
It is a continual source of frustration that we get so little support from the Tory controlled County Council, who do not support Hastings to the degree that they should. It's my job to do everything I can to counter that, and to help HBC make the most of the resources we do have, to provide the greatest benefit to the people of Hastings.
CONTACT RUBY:
Skip back to main navigation