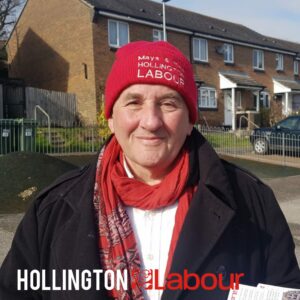 I am very proud to have represented the people of Hollington as their councillor for the last four years and am committed to continuing to stand up for the residents.
I am honoured to be able to help improve our local area and make Hollington a great place to live. I have also served as Deputy Leader of the council for the last year and care deeply about the town as a whole.
I was born into a family of proud NHS workers, but instead of continuing the family tradition, I became a musician! Over the course of my career, I ran festivals and venues in London, then expanded into heading the culture departments of Oldham and Bristol.
Having lived with a sculptor for over 40 years, the arts are very close to my heart, as they are to many residents of Hastings and St Leonards. I have three kids and now six grandchildren. I will forever be driven by early memories of atrocity, so I get up every single day determined to make a difference towards a fairer world.
As time seems to be running out to address the inequalities we face in our society, taking action has become more pressing. It is only through a Labour council that this can be done.
A strong Labour council is what we need to have any chance of rebalancing Hastings.
CONTACT PAUL:
Skip back to main navigation