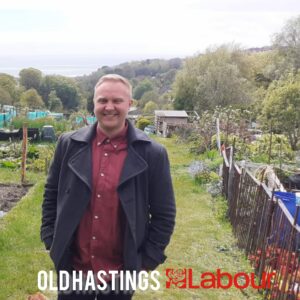 Born and bred in Hastings, my passion for improving our amazing town is rooted in my family history, working locally as a Teaching Assistant, attending church, and as a community fundraiser. My great-great-grandfather was Biddy the Tubman: his tub is preserved in the Fisherman's Museum. Both Biddy and my great-grandfather served in the RNLI; my grandparents were born in Hastings Old Town, and my dad played for Rock-A-Nore football club. I am proud of these local roots which have fostered my community spirit and civic pride.
I have represented the residents of Old Hastings for the past six years. You will often see me out in Old Hastings Ward, speaking with residents, reporting issues, supporting businesses and tenaciously doing casework.
I throw myself into local events, such as Carnival Week, Jack in the Green, Bonfire Night, Hastings Week and Pirate Day. I am a trustee of several local charities,. My community work includes: leading litter picks, removing graffiti, painting bollards, cutting down overgrown vegetation and organising street and public meetings.
CONTACT JAMES:
Skip back to main navigation