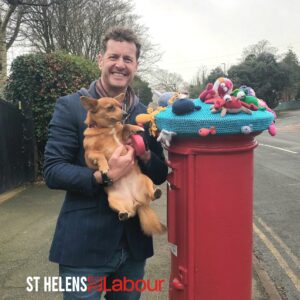 I have been the proud Councillor of St Helens for nearly 10 years now and have loved every minute of it: the residents of this beautiful ward have been so welcoming and we have achieved some great stuff together.
More importantly we became a community willing to stand with each other and campaign on issues that affected our neighbours like pavements, bus services and mental health. This is what being a councillor is all about: improving the lives of those you represent, getting your hands dirty and representing them when times are tough or they hit a dead end.
I am a proud Hastings father of three and was born at the Buchannan Hospital and have lived all over Hastings all my adult life. From the dark basement flat in Southwater road, to the co-op housing on Mount Pleasant Rd, to owning a home in the 90s in Waldegrave Street, to back to heartbreakingly huge rents today on St Helens Road. I have been around our amazing town, know it well and love it and care about it deeply.
For seventeen years I ran Xtrax young people's centre and charity, looking after and supporting some of the most vulnerable 16-24 years old in the town. Housing, mental health and poor education were everyday issues that came up again and again and I knew I had to do something about it and standing as a Councillor seemed like a good idea. Over the last ten years I have been a voice on the Council ensuring that the Council keeps the residents of Hastings close to its heart when making every difficult decision.
So, this year I am standing again in St Helens in the Hastings local election, hoping that the residents will trust me one more time to be what I have become very proud of: their Councillor, estate manager and advocate.
CONTACT ANDY:
Skip back to main navigation