It's a clean sweep for Labour's council-run street cleaners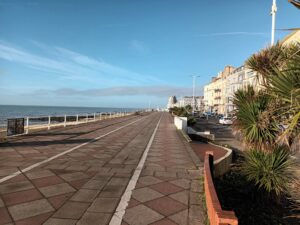 The word on the streets is: things are looking a lot better in Hastings under Labour. Since the council took control of the borough's street cleaning operation in 2019, the town has continued to see a significant improvement in levels of litter, graffiti, detritus, and flyposting.
Out of the 300 borough roads inspected in the latest independent performance review, 99% passed at an acceptable standard. This is a significant 6.4% improvement when compared with the contracted-out service two years ago.
This review in particular highlights a substantial reduction in litter and detritus, which have fallen by 3.5% and 7.5% respectively compared to the previous year. This represents the lowest percentage of litter and detritus the borough has seen since 2008.
Other areas have also seen a marked improvement compared to the previous year, with graffiti reducing by 3% and flyposting by 2.2%.
POSITIVE IMPACT
Cllr Paul Barnett, portfolio holder for Urban Environment and Community Safety, said:
"These figures show the positive impact that taking the cleansing services back in house has had on the borough's cleanliness. Each of these reports shows we are steadily improving on previous results, and it is great to see the council's hard work of running our own street cleaning services paying off. We know there is still more to do, and I fully expect that we will continue to improve further. We are also aware that the people of Hastings play a huge role in ensuring the town remains clean. I would like to offer my thanks to every resident and community organisation who works hard to make our town such an enjoyable place to live and work in. Everyone can play their part in helping, by binning or recycling litter, or by reporting any waste they see directly to us through our MyHastings online service. This is the quickest way for the team to hear about a problem, and they will then clear it as soon as they can."
See also: Town's streets are cleaner than they've been in more than a decade council told
Skip back to main navigation