Elections will be held on Thursday May 6 for both the borough and county council, after last year's borough elections were postponed.
So in Hastings & St Leonards you will have two votes.
How can I vote?
Because of Covid restrictions, we are encouraging supporters to vote early by post. Although there will be polling booths open on the day.
You can download a form from Hastings Borough Council. If you're in Rother, email: [email protected].
The deadline for applications is April 19.
Our pledges to you: read the full details of Labour's 2021 Manifesto
Who are my Labour candidates in 2021?
Margi O'Callaghan – up for re-election in Silverhill and also now standing in the county division of St Helens & Silverhill
Antonia Berelson– up for re-election in St Helens ward
Phil Scott – up for re-election to the county division of Hollington & Wishing Tree
Alan Roberts  – up for re-election in Wishing Tree
Maya Evans – up for re-election in Hollington
Nigel Sinden – county division of Maze Hill & West St Leonards
John Cannan – West St Leonards
Steve Thorpe – Maze Hill
Trevor Webb – up for re-election in Central St Leonards and also the county division of Central St Leonards & Gensing
Heather Bishop  – Gensing
Ruby Cox – county division of Old Hastings & Tressell
Anna Sabin – Old Hastings
Ali Roark – Tressell and the county division of Baird & Ore 
Anime Abdallah – Ore
Warren Davies – up for re-election in Baird
Godfrey Daniel – up for re-election in the county division of Braybrooke & Castle
Claire Carr – Castle
Sabina Arthur – Braybrooke
Judy Rogers  – county division of Ashdown & Conquest
Brian Bostock – Conquest
Liam Crowter – Ashdown and the county division of Brede Valley & Marsham
Ash Madden – county division of Rye & Eastern Rother
Who are my current councillors?  What ward or division am I in?
To find out who your borough councillors are click here. For your county councillor, click here.
Map of Hastings Borough Council wards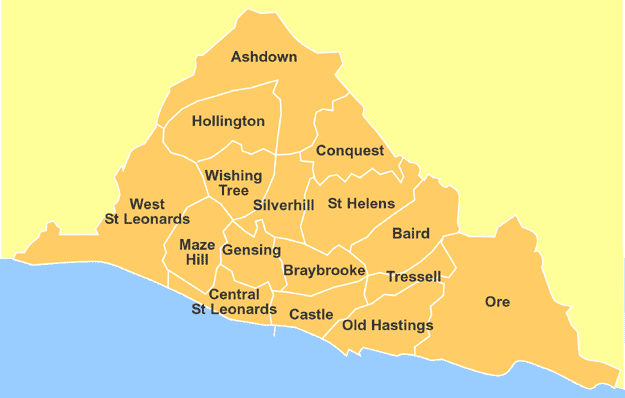 Borough, county … who does what?
These are just some of the main areas of responsibility.
The county council is responsible for adult social care, children's services, transport and highways planning, which includes the maintenance of roads, such as fixing portholes. On-street parking charges are levied by the county council.
The borough council is responsible for planning, recycling, refuse collection and street cleaning. It provides temporary housing and encourages the creation of more affordable homes. It runs a number of public car parks and owns some industrial and retail sites.
For more details on county, click here. And for the borough council, click here.