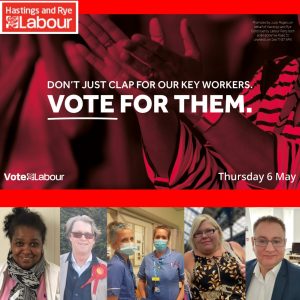 It's been called the Faceless Election by one local media outlet. And it is true, this election has been mainly conducted online, and via leaflet, with little human contact,
But bit by bit, as the campaign progressed, Labour canvassers began to knock on doors, and – socially distanced – engage with the voters. And what we found surprised us. Far from being reluctant to see us, they talked. They told us their stories, They wanted to be heard. And we listened.
I remember the nurse just back from a shift – exhausted and not that keen to engage at any length. But she had this to say: "I usually vote blue. But not this time. Not after they shafted us."
She was referring to the derisory 1% pay offer this Tory government thought was adequate recompense for all the hours worked, the sacrifice, of our magnificent health workers, some of whom paid with their lives.
Nurses like Antonia Berelson (left, middle picture above) and Brian Bostock, right, know what it's like to work on the frontline.They know the health service needs more resources and that's why they're standing for Labour in this election.
This callousness extends to other areas – housing for instance, which needs a radical overhaul to free up more land for development – and funds to enable council to meet desperate housing need in Hastings. But instead, the Tories allow developers – some of them their cronies – to sit on land while its value accumulates.Fat profits for them. Lean pickings for those still living at home, or living in substandard private accommodation.
Other areas of our social services are desperately short of the money they need. At a time when the government was prepared to dole our millions to their pals, producing PPE which was often not up to the standard required.
Education, too, has been an area where the government has been both mean and incompetent.
These things matter to support workers Anime Abdallah and Margi O'Callaghan and to teacher Warren Davies. And we know they matter to you.
The polls close at 10pm this evening (May 6). Vote now – for a Labour Council  and to send this Conservative government a clear message that you care about our health and social care, our access to homes, our education, even if they don't.
Send them this message. Vote Labour.