Land for the People… How Ending the Scandal of 'Landbanking' is One Way to Solve Our Housing Crisis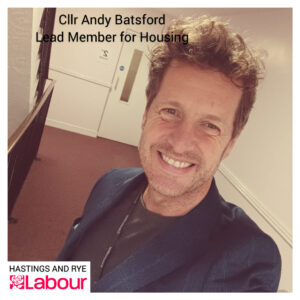 Only radical action will solve the scandal of development land lying idle, making fat profits for investors while local families are deprived of desperately needed homes, says a leading Hastings councillor.
Stronger compulsory purchase powers (CPOs) would release dozens of development sites for affordable housing, Andy Batsford, lead councillor for housing and homelessness, told a full meeting of Hastings Borough Council on July 14
These so-called 'brownfield' sites dotted around the town are often left undeveloped for years. There are currently 2,000 planning applications agreed by the council, but with no sign of any building work taking place. The mostly out-of-town developers have decided it is more profitable to wait for land prices to rise, meanwhile benefiting from an appreciating 'asset' on their books.
Hastings' Labour council is looking to build 500 truly affordable homes over the next four years – although many more are needed – taking control of a broken house building market, said Cllr Batsford. 
The aim is to provide secure, safe, affordable houses for thousands of local families – many of the low-paid carers and nurses we clapped for last year – desperate for a chance of a new home.
But private developers, when they do build, ignore the sacrifice these people have made, often providing little or no homes that are affordable, using the 'viability' loopholes – with planners helpless to stop them.
The Conservatives' solution to the crisis is no solution at all. Their local leader, Cllr Andy Patmore, suggested a tax on landowners who don't bring planning permissions forward in a set time.
Cllr Batsford encouraged him and his party to think bigger and bolder rather than just "tickling" these often huge offshore investors with the inconvenience of paying a bit more tax which can be written off by their accountants
"We the people, and the council who represents them, cannot be held hostage by these landowners anymore," said Cllr Batsford. "They are effectively stealing the opportunity of local people to live in an affordable home.
"The time to go lightly on this issue has passed. We are in the middle of a housing crisis and need radical solutions. The 2,000 planning permissions just sitting there are an insult to all of us in this town.
"We need effective and cost-neutral powers to do something about it."
Government needs to strengthen compulsory purchase orders in order to make them at least cost-neutral, he said. This would enable local authorities to legally take over land that is left idle and turn it over to groups able to build truly affordable homes for the people.
The current CPO process places all the legal costs on the local council, from drawing up the documents, taking the land to a public auction and the costs associated with that sale. Then, to add insult to injury, the council has to pay compensation to the landbanker for the inconvenience of having the land removed from them: land that they left idle, depriving the town of much needed homes.  
The tragedy for families living in cramped accommodation, is that the Tories show little sign of taking their plight seriously.
And no wonder. A lot of the landbankers contribute to Conservative party  funds. More than a fifth of all donations to the party over the past decade came from the residential property sector, according to a report from the anti-corruption group Transparency International. 
While corruption cannot be proved, the Conservatives have an "unhealthy financial reliance" on property developers, they concluded.
For the full debate on housing, check out the recording on the Hastings Borough Council website – 49 minutes in.
Skip back to main navigation