Just to set our achievements into context, since 2010 council budgets have been cut dramatically, because of reductions in government grants.

 

Hastings has suffered particularly badly, with our main government grant cut from over £9m in 2010 to just £1m in 2020.

 
The council workforce has been cut by half. Overall, we've lost over £60m cumulatively in government funding. Many services have been discontinued. 
If funding were to be restored to the levels under the last Labour government, before Conservative and Liberal Democrat cuts, we would be able to reinstate many of these services, and develop new ones with additional income we've raised and efficiencies we've made since 2010.  
As we have elections every two years (although it has been three years since the last one) not everything in the manifesto is achieved within that timescale – some of our commitments are longer term, or are continuous commitments stating our broad approach to particular issues.
In most cases, these have been 'carried over' to the 2021 manifesto but many of the specific commitments we made in 2018 have been achieved.
Some of our 2018 pledges and achievements
FIGHTING FOR FUNDS
Take every possible opportunity to submit funding applications to the EU, Local Enterprise Partnership, central government, Heritage Lottery, and any other funding streams available, where these support the Council's priorities;

Over £10 million in competitive external grant funding from all these sources, for a wide range of projects, was secured in the last two years.

 
HOMES FOR ALL OUR AIM
Use our housing company to provide fair rented housing and housing for sale, to both generate income and provide a supply of good-quality housing for local people, with security of tenure;

Because of government rule changes around borrowing, this has not been pursued, but instead the council has purchased housing directly for use as temporary accommodation for homeless households, reducing the dependency on bed and breakfast accommodation through a £5m programme.

 

Twenty-six homes have now been purchased.

Work with Optivo housing association on the Coastal Space programme to refurbish Leolyn House, a disused care home in St Leonards, providing 16 new social homes;

Leolyn House is completed and fully occupied.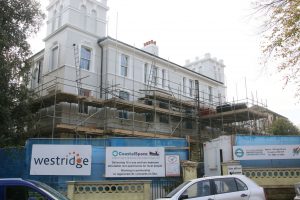 Continue to provide services to identify and assist rough sleepers, in partnership with voluntary agencies, offering help to secure and retain tenancies, working towards a 'housing first' model, where every Hastings resident who ended up on the street would be entitled to a home;

We have used many approaches including an 'assessment centre' to address specific needs of rough sleepers and help them into accommodation and have launched a Housing First programme as part of the Rough Sleeping Initiative. Our schemes have helped 60 rough sleepers into permanent homes over the years. During the pandemic 77 former rough sleepers have been accommodated. We continue to develop the Housing First and Next Steps programmes.


Develop different housing models, including modular temporary housing, as an alternative to bed and breakfast accommodation for homeless people;

We are purchasing existing homes across the borough for this purpose rather than modular temporary housing.
Investigate proposals to redevelop West Marina as a mixed-use housing and leisure development, or, if these are not viable, develop medium-term temporary leisure uses for the site;
Leases not signed yet for this exciting development due to the pandemic and a change of financier but should be underway again soon.
Continue the successful Grotbusting programme to force owners to improve the appearance of land and property, achieving at least a further 100 improved properties by 2020.
EDUCATION and JOBS
Work with Sussex Coast College to build their University Centre, while continuing to look for other universities to develop a presence in Hastings;

Sussex Coast College (now East Sussex Colleges Group) has developed a university centre at its Station Plaza building, offering degree courses to many students. We continue to discuss university relocations via the Local Enterprise Partnership and other forums.
Work with partners to develop a strategy to increase the number of high-quality tourist accommodation self-catering and serviced bed spaces in Hastings.

We have signed a deal with Premier Inn to build a hotel on the Cornwallis car park site and are considering other proposals for new hotels elsewhere in town.

Support the provision of low-cost start-up units for new businesses, especially in the creative and cultural sectors;

We secured funding from the Local Enterprise Partnership to build a new business start-up centre in Hollington to create around 80 jobs and incorporating a business skills training centre.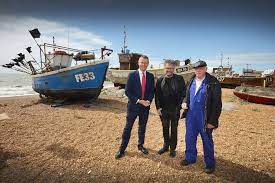 Lobby government ministers and shadow ministers to establish a fairer system of fishing quotas that properly recognises the under ten metre fleet and the importance of sustainable fisheries such as Hastings.

The council leader brought the Shadow Fisheries Minister to Hastings, where he committed a Labour government to significantly increasing the quota share for the under ten metre fleet. No such commitment has ever been made by a government minister.


Use the funding achieved from the EU Community-led Local Development programme to establish projects to address long-standing unemployment and income deprivation, as well as skills shortages, principally in the Hollington, Broomgrove, Farley Bank, Halton, and Downs Farm estates;

Several projects have now been approved, including 'Live, Work and Thrive', which will help people in the most deprived communities tackle poor health, insecure housing and unemployment, 'Invest for Life', a project run by Education Futures Trust to help local people gain the practical skills they need to get work and Work Smart supporting people over the age of 18 into work.


Continue to acquire local commercial properties to generate income for the Council and provide security for local jobs;

Our programme of purchasing commercial properties is now raising an additional £1m net revenue to fund council services.
Redevelop White Rock Gardens through a self-financing scheme to provide new leisure and entertainment facilities, as well as enhanced gardens and open spaces;

We undertook a feasibility study for a proposal for a combined new leisure centre and entertainment venue at White Rock Gardens.

 

This demonstrated that the idea was feasible, but the work has been paused due to Covid and while we await the outcome of the town deal investment plan.
Develop an Area Action Plan for White Rock Gardens and Hastings Town Centre, to determine new planning policies for this area;

Public consultation on the first draft of the AAP took place during autumn 2018. The AAP has now been incorporated into the broader Local Plan review which is in its consultation phase;
Continue to fund the Council's Active Hastings team to take sports opportunities and street games into disadvantaged parts of the town and give the chance for young people to become accredited sports leaders.
Funding for this scheme has been protected
Develop our programme of events such as the Seafood and Wine Festival, St Leonards Festival, Stade Saturdays, and the Herring Fair to maximise the variety and impact of the overall festival programme.
Until the pandemic hit the council's festival programme was delivered with festivals on council land free from single-use plastics for the first time in 2019. When Covid restrictions allow we will continue.
Complete the restoration of Pelham Arcade as a key heritage feature.We continue to work on this scheme and have recently agreed additional funding to help restore the road.
Redevelop the former Harold Place toilets as a new café-restaurant.
We are working with a national restaurant chain to redevelop this site as a new restaurant and plans for the new building will be drawn up shortly
PROTECTING OUR ENVIRONMENT
Work towards the transfer of protected open space land in the Ore Valley from Sea Space (the former local regeneration company) to the Council and establish a local trust to maintain and enhance these spaces for local wildlife and for local people to enjoy.

The land has been transferred to the council – safety works are to be completed before advertising the land for a local community groups to take on its management.
Work with the Environment Agency and Southern Water to make sure water quality is further improved and Blue Flag status is maintained for St Leonards beach;

Blue Flag status has been maintained for St Leonards beach, and the innovative natural filtration system installed through Alexandra Park stream and ponds has improved bathing water quality by removing bacteria from the stream outflow and Pelham Beach.
Promote our online reporting system for rubbish, dog fouling and fly tipping to provide clear target times for when problems will be dealt with and use our street wardens to monitor 'hotspot' areas regularly.

The My Hastings system for online reporting has been developed and improved and has received tens of thousands of reports.


Establish a new Direct Services Organisation (DSO) to bring street cleansing, bulky waste collection and fly tip clearance back 'in-house' when the current contract expires in 2019, and market these in-house services to other organisations.

The new DSO started operations in June 2019, resulting in a much-improved service for street cleaning and fly tip removals.


Work with housing associations to make sure their housing estates are kept clean and tidy, investigating joint planning of services and potential use of enforcement powers where this is necessary.

A prosecution was prepared against Optivo housing association, to require them to keep their land clean.

 

Although the prosecution was not pursued, this has resulted in significantly improved standards of cleanliness on Optivo estates, with the council DSO working more closely with Optivo to make sure this is maintained.

Enforce Public Space Protection Orders (PSPOs) to prevent littering, street drinking and anti-social behaviour, while linking this to mental health and other support services that offer help to those with alcohol or drug addiction problems.

We reviewed and extended PSPOs to cover additional areas around the town centre and continue to work with the police to enforce these, with successful prosecutions of persistent offenders. Support services funded by the county council remain inadequate, however. We are a pilot area for Project Adder and are working in partnership with the police and other agencies to tackle the harm caused by the supply and use of drugs.
Maintain 'Green Flag' award status for Alexandra Park and St Leonards Gardens, and maintain our Environmental Stewardship Programme with Natural England to protect habitats, encourage biodiversity and limit invasive species in the country park;

Green Flag status retained for our parks, with many biodiversity improvements at the country park. For example, removing gorse and other invasive species, restoring natural heather heathlands at Firehills.

Build a new visitor centre at Hastings Country Park;

The new 'straw bale' construction visitor centre will open soon

TACKLING CLIMATE CHANGE
Pursue the Council's newly-adopted energy generation strategy to set up a local supply network to provide cheap, sustainable electricity for local businesses and households, supplied from seafront vertical-axis wind turbines and PV arrays on Council and other buildings, as well as examining potential other sustainable sources such as wave power and district heating systems;

 

Local supply networks are not technically possible yet, but the council has installed roof-mounted solar arrays on its seafront offices and Churchfields Business centre, and is investigating ground mounted solar arrays, where there are no adverse ecological consequences, additional roof-mounted solar on council-owned buildings, and solar arrays over car parks.

 

We are also reviewing the local plan to identify sites for wind turbines.

Install more electric vehicle charging points and pressure local supermarkets and leisure providers to provide charging points;

Three local supermarkets now have EV charging points. 14 new EV charging points are being installed in Priory Street car park and Carlisle Underground car park as well as 2 new chargers at Pelham Place car park.

 
LOOKING AFTER THE VULNERABLE
Do all we can to mitigate the impact of the Tory government's attack on welfare claimants, by continuing to provide full Council Tax reduction to the poorest in our communities;

A 100% Council Tax Reduction scheme has been retained, ensuring all those claimants in receipt of out-of-work benefits (70% of claimants) pay no council tax.

 

We are one of only two councils (we believe) in the country to retain this scheme.
Continue to play our part in the programme to resettle Syrian refugees, offering to rehouse 100 refugees over the five-year life of the programme;
Hastings rehoused well over 100 Syrian refugees in Hastings, through the first phase of this government-funded programme.