New Labour Group Leader in Hastings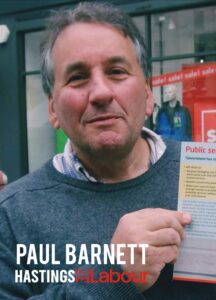 Hastings and Rye Labour Party is delighted to announce that Paul Barnett has been elected as Labour Group leader at a meeting of the group last night.
This follows a decision by current Council leader Kim Forward to step down after two years.
The next Full Council meeting in April will be asked to agree Paul as the new Council leader.
Paul Barnett said " This is a real honour, to be asked to lead for Labour at such a crucial time locally, nationally and internationally. I will do my best to live up to the excellent work done by Jeremy Birch, Peter Chowney and Kim Forward who have all inspired me as leaders over the last ten years. Hastings is a great town, and I will do my best to help make it a place where everyone feels happy and secure."
Kim Forward said " It has been a very special responsibility to be leader of the Council throughout the pandemic. I have worked with others to try to ensure that our residents have been supported through this most difficult of times and that the NHS could support our town as effectively as possible. Thank you to everyone who has helped and been there for others including all our Hastings Borough Council officers. I know that Paul has the passion and commitment to continue to guide our town towards a brighter future."
Alan Mathison
Chair
Hastings and Rye Constituency Labour Party
Skip back to main navigation